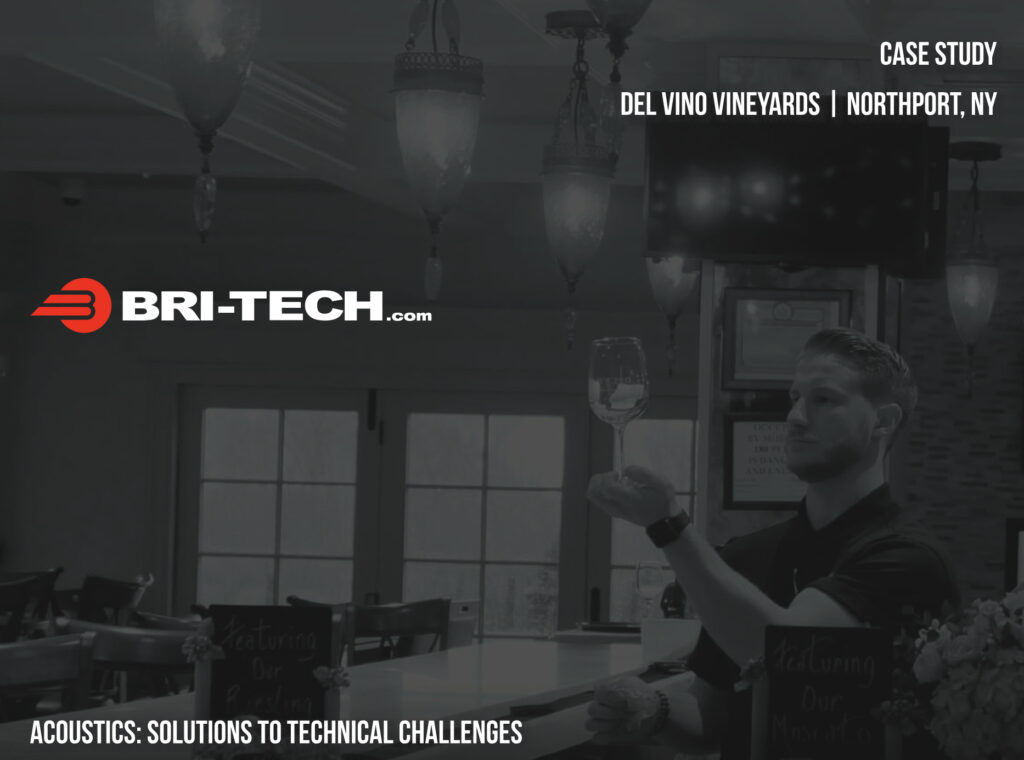 Providing Technological Solutions with a Human Touch
Del Vino is a new Vineyard in Northport, NY that gained much fanfare and praise for the design and level of construction detail. Their grounds, exterior design and interior design are of the highest level. However, the interior was reverberant and bright, making it difficult to hear when crowds or live musicians were present. Rather than leaving this be, as most hospitality environments do, the owners sought a solution and were referred to Bri-Tech. With 30 years of experience, our company has learned to provide acoustic solutions by bridging the gap between sound and aesthetic. The challenge was to reduce the acoustic issues without deadening the room.
We pride ourselves in being reliable, responsive, and resourceful. Our team listened to what the owners wanted to do and provided them with a solution that fit their goals. Any technology company can fix sound problems, but Bri-Tech has the skills and knowledge to do so while maintaining the aesthetic that Del Vino has captured in their vineyard.
Bri-Tech selected a percentage of space to be covered by a specific type of sound panel. The Client provided silk fabric to wrap these sound panels and custom fit into the coffers to appear like they were always there. Bri-Tech's engineering shop designed and fabricated 3D modeled transitions to allow the recessed down light and sprinklers to fit properly.
During a post-installation interview, owner Frank Ghecite noted that the solution worked great! His clients have told him that they noticed a substantial difference; even with live music and a crowd, you can still have a conversation. Check out this video to see how Bri-Tech's acoustic solutions turn out in Del Vino Vineyard!