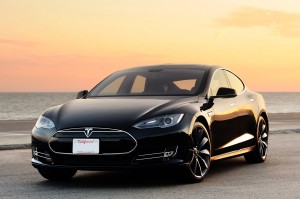 Much has been said about the unique characteristics of the Tesla, but owning one has not really been much of a consideration for typical sports car enthusiasts. Despite the sound that the car doesn't make, the stellar performance will leave the other sports sedans behind.

Performance
The Tesla might be silent, but performance results from the Tesla Model S are certainly making some noise. The 416 horsepower electric engine is capable of generating 443 pounds of torque from 0 to 5,100 rpm with enough get up and go to leave a BMW or Domestic V-8 gasping for air. In an independent Drag Times test, the Tesla recorded a solid 0-60 mph time of 4.4 seconds and went on to post a quarter mile best time of 12.371 seconds while reaching 110.84 mph at that distance. This is quite impressive performance from an electric car that weighs just under 4,700 pounds.
Range
The biggest complaint for electric cars is their lack of range before requiring a recharge. The Tesla sets the bar for electric driving range with its 85 kWh battery. The EPA 5-cycle certified range is a remarkable 265 miles!  This kind of range makes the car very practical, especially considering the battery is backed by an unlimited mileage 8-year warranty.
Tech
The Tesla Model S's dashboard has a 17″ touchscreen that integrates media, communications, cabin controls and vehicle data or feedback to the driver. Access to the internet, Google maps, online HD radio and even USB connectivity are all features included. Of course all of this is Bluetooth, hands free, voice command.  A backup camera is also there to provide an extra level of safety.
Environmental Impact
Performance with a low ecological footprint. The car has zero emissions and does not even use a gas powered engine to recharge the battery. In order to make things more convenient for the operator, the batteries can be charged at a rate of 29 miles of range per hour of charge. The batteries themselves are rated to last at least 8 years before the environmental impact of replacing them has to be considered. On top of all that, the car is pretty good at reducing noise pollution.
Bonus Points
The Telsa has a sexy yet refined appearance, but one of the bigger benefits of buying a Tesla is that it is a car that is in demand. The Tesla is still in limited production and is not a car you will see parked in your neighbors driveway.