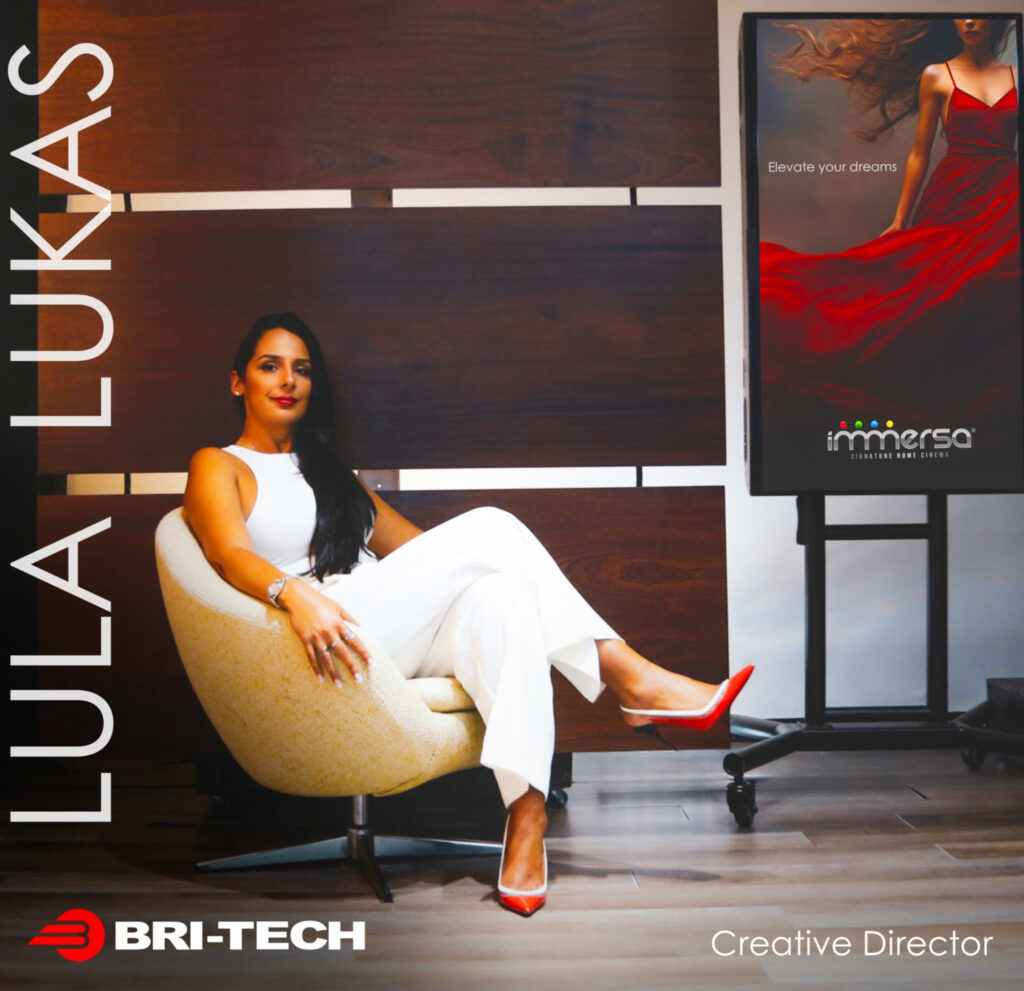 Bohemia, New York, August 22, 2023 – The rapid expansion of Bri-Tech, a pioneer in cutting-edge technology integration, is not only transforming the landscape of luxury living on Long Island's East End but also reshaping industry dynamics. As demand rises for upscale home automation solutions, immersive home theaters, and advanced security and life safety services, respected competitors, architects, and builders alike are turning to Bri-Tech. Their expanding team of engineers and technologists within the company has highlighted their adeptness in delivering sought-after sophisticated systems with success. In this evolving landscape, the need for visionary leadership becomes paramount. To initiate this next era, Bri-Tech proudly introduces Lula Lukas as their dynamic Creative Director.
"Lula brings an unparalleled blend of creativity and technological acumen to our team," notes Brian McAuliff, Founder and CEO of Bri-Tech, "she will not only narrate the evolution but also become the catalyst for our continued growth. We are witnessing a surge in talented creative individuals like Lula. All driven by a shared desire to be part of something much larger and to align their personal goals with our collective mission. Their creative synergy to invent and deliver the next generation of technology is what drives us forward."
Drawing on her extensive experience in studio production, as the former CMO of Tiedin Studios and an accomplished artist, Lula possesses an innate mastery of visual storytelling. Her artistic vision will encapsulate the very essence of Bri-Tech's mission – to enrich lives through cutting-edge technology and elevate spaces with sophistication and elegance. Her role as Creative Director will be to intricately weave the tapestry of Bri-Tech's exceptional projects, casting a spotlight on the remarkable individuals who bring them to life. Moreover, she will curate statement projects for awards, further elevating not only Bri-Tech but also the esteemed architects and developers with whom they closely collaborate. 
Lula Lukas assumes a pivotal role in driving Bri-Tech's internal evolution and geographical expansion, spearheading a new era of growth. Along the company's journey, Bri-Tech has consistently provided a foundation of "peace of mind" to their clients for over three decades. Notably, Bri-Tech has extended this commitment to esteemed brands such as Guild Hall, Parrish Museum, Nature's Bounty, LeSportsac, Northwell Health, Clare Rose, and Dime Bank.
Lula Lukas' love for creativity extends beyond her professional realm. She's an accomplished artist often found donating her artwork or time to various Long Island charities underscoring her commitment to the community.
###
About Bri-Tech:
Bri-Tech is a pioneering technology integration company that breathes life into innovation. With a history rooted in cutting-edge services, Bri-Tech collaborates with esteemed brands to redefine modern living through technology integration, Symbiant automation solutions, and the captivating experiences of immersa home cinema. For more information, please visit www.bri-tech.com.
About immersa Home Cinema:
Immersa Home Cinema, a trailblazer in immersive entertainment, has been redefining the cinematic experience for more than three decades. From conceptual brilliance to real-world marvels, we specialize in crafting personalized cinematic environments that transport audiences to extraordinary realms. As the foremost authority in Long Island home theaters, our unwavering commitment to innovation and excellence continues to set new standards for unparalleled entertainment. Discover more at immersacinema.com.