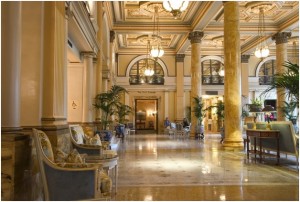 Streamline Service, Empower Guests and Make Your Manhattan Hotel Memorable
Making guests feel at home when they're staying in your Manhattan hotel is essential to creating a memorable experience – one that will stay with them for the rest of their lives. But keeping guests comfortable is about more than just waiting on them hand-and-foot; you have to also empower them to take their comfort into their hands from time to time. The simplest way to this is with a building automation system. By putting user-friendly, intuitive control into your guest's hands, you make their stay even more special, and you gain the ability to streamline service, monitor energy and protect your spaces to boot. Read on to find out more.
Save Energy in Guestrooms
According to a Commercial Building Energy Consumption Survey, 50% of the electricity used in hospitality and lodging spaces in the US comes from lighting and cooling. Guestroom automation solutions as simple as adding dimmers to each room can begin saving your business money – Lutron claims they can save up to 9% on energy costs – and a combination of solutions can save even more.
Simple, unobtrusive control panels can be added to the walls of your guestrooms for easy access to the light and HVAC systems. Smart shading controls can be installed as a simple solution for preventing heat gain based energy loss. And one-touch controls can be programmed to allow your guests to shut off everything as they leave while occupancy sensors can act as a back-up for preventing energy misuse. Moreover, you can enhance the guest experience even more by controlling lights, shades and HVAC systems remotely with pre-programmed "welcome" settings.
Leave a Lasting Impression
As smart technology begins to dominate our daily lives, in the form of smartphones, tablets and connected devices, potential guests begin to look for the same in lodging and hospitality services. In a survey conducted by Statista.com, the newly viable millennial market craves personalized service more than ever before. The technology in your spaces will help your hotel stand out.
Along with lighting, shading and HVAC, guests crave the feeling of safety in their spaces. Leave a lasting impression by allowing them to access their rooms with smart locks, or control electronic devices like safes with the touch of a button.
Smart locks are becoming essential for modern hotel rooms. Not only do they work to keep the room secure, but they also record the usage of the lock, like how long a tampered-with door has been open, to make gathering info easier if anything goes wrong.
Moreover, one –touch controls of the room safe will provide convenience to your guests while personalizing access for a more customizable experience. The results are a happier, safer stay and a more satisfied customer.
Are you ready to experience the future of hospitality with a building automation system? Contact us today.