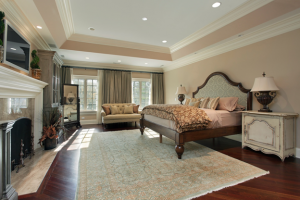 The spring is here, and the weather is changing. You may be spending the coming months outside enjoying the beautiful Hamptons atmosphere, but that doesn't mean your home shouldn't be comfortable. Smart home automation is the perfect solution for simple climate control. Whether you want your spaces to automatically adjust to your liking, or you want a system that protects you from potentially harmful environmental hazards, integrated technology can help. Read on to learn more.
See Also: What Can a Smart Home System Do For You?
Climate Control
One of the simplest ways to stay comfortable in your home is to have an efficient heating, ventilation and cooling (HVAC) system installed. Your HVAC system should not only keep the temperature agreeable, but it can also save you energy.
Imagine: when you hop out of bed into the cold morning air, what's the first thing you do? Mostlikely, you change the temperature. With an integrated HVAC system, just press a button on your smartphone or tablet that adjusts the thermostat remotely. Smart technology means that you have instant remote control over your home's settings. It also means the connected devices in your house can learn and adapt to your lifestyle.
A smart thermostat can remember your exact comfort settings and adjust automatically. Want to wake up to a warm bedroom? After your system learns your habits, you can let the system do the work for you. Do you lower the temperature before you leave in the morning? The system can remember that as well, and take one more thing off of your mind.
Staying Safe
Of course, and HVAC system can do more than just keep you comfortable – it can also keep you safe. Environmental monitors can detect when there are harmful gasses in the air and flush out the toxic fumes instantaneously.
For instance, when you're cooking a big family dinner on Sunday night, you have a lot on your mind. If you misread the recipe, you could easily overcook items in the oven. This can lead to a smoky kitchen space. But when your HVAC system detects the smoke, it can automatically react to dispose of the potentially harmful substance and prevent your kitchen from smelling like burnt dinner.
Plus, an HVAC system can be indispensable in an area like a garage. It's no secret that car fumes can be very hazardous, so a system that detects problems before they occur is very beneficial. Whether you're a motorhead working on your dream car or you simply want to keep track of the occurrences in your garage with push notifications delivered to your smartphone, environmental sensors can help protect your spaces.
Are you ready to stay safe and comfortable with a smart home automation system? Contact us today!