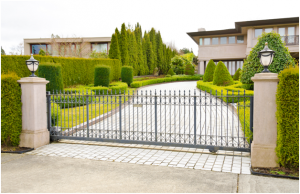 What's the difference between a house and a home? One is just a building, the other is a unique place that reflects your family's lifestyle. And because it's more than just a building, you'll want to keep it safe from any possible harm. Bri-Tech can tailor home a security system for your residence in the Hamptons that is as unique as you are, meaning you have complete control over who gets in to your spaces. More than just a few surveillance cameras and flood lights, today's security solutions are designed to keep you safe and fit into your lifestyle. Read on to find out more.
SEE ALSO:  What Can a Smart Home System Do For You?
Spruce up Your Surveillance
While it's not the only way to keep your home safe, surveillance cameras are still an effective means of keeping an eye on your home at all times. Modern cameras are discreet, functional and able to stream HD footage to you wherever you are in the world.
Many homeowners are hesitant about surveillance cameras because they fear heavy wiring and construction will be necessary for installation. It's true that plenty of CE professionals prefer the reliability of a hardwired system, but there are great wireless IP cameras available as well.
IP cameras use your existing internet connection to store footage wirelessly on a server, which can be either onsite or off. You can even utilize the cloud for extra storage space. When you need to access the footage, past or present, you can stream it directly to your smartphone. That way, you're always aware of what's going on at home.
Biometrics: A Personalized Key
For hundreds of years, the lock-and-key system has remained relatively static. Sure, key designs have gotten more complex, and locks have become smaller and stronger, but the basic principles remain. But now it's time to upgrade your door locks with a key that's literally as unique as your fingerprint: biometrics.
Biometric entry systems use your fingerprint to unlock your doors, creating a one-of-a-kind code for your home. Grant access to each member of your family, so no one has to worry about forgetting keys or locking themselves out ever again.
But nothing is foolproof, so our biometric entry systems has some failsafe features. Remote access on your smartphone or tablet will allow you to lock or unlock the doors from anywhere in the world. Personalized entry codes can be programmed into your system, as a way to track who's coming and going at all times. If the housekeeper needs to get in while you're out, give her a personal code and receive a notification when she uses it.
Plus, your biometric entry system ties into your alarm and smart home systems, for added security. If tampering is suspected, the alarm will go off and a signal will be sent to the authorities. Your smart home system can react by opening or closing window shades, locking down all other doors and flooding your home with light.
If you're ready to make your home safer in 2016 with an advanced home security system, contact us today.