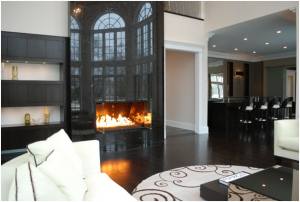 Get the Most out of the Integrated Technology in Your Greenwich Village Home
At this point, it's not a question of whether you should upgrade your Greenwich Village property with a smart home system, but when. There's no denying that integrating the technology in your spaces does more than just a few nifty tricks. It increases your safety, entertainment and the day-to-day functions of your home. But when taking the first steps into the world of home automation, or when considering an upgrade to a more advanced system, it's important to consider the actual applications of the technology, rather than just the novelty. In this blog, we'll take you through some of the more practical aspects of our systems so can make an informed decision before you buy.
The Symbiant Difference
Before getting into the details, it's important to define the terms; in this case, Symbiant. While not as well-known as some smart automation systems, Symbiant delivers more to your spaces. Powered by Crestron, our system takes into consideration the human side of home automation. How will it look, feel and be used throughout your daily life? We provide multiple control devices – including in-wall touch panels, dedicated remotes and mobile device apps–each equippedwith custom, touch screeninterfaces that you can control with simple gestures. Plus, our Symbiant Towers do away with the black boxes that plague so many smart home systems, with stylish, elegant and accessible installations for instant access.
Entry Systems Keep You Safe
The benefits of your smart home automation system begin before you even walk through the door. Whether you're miles away on vacation, around the corner at the office or even chilling out on the couch, an automated entry system keeps your property protected with ease. Receive alerts directly to your smartphone or tablet when someone approaches the gate, and view who is at the door via a smart doorbell. Once confirmed, you can easily use a touch panel or smartphone to unlock the door to allow access. And when you leave the house or go to bed at night, a single button can lower shades and lights, turn off all components and lock all of the doors.
Smart LightingKeeps You Stylish
While it may seem obvious, lighting is one of the most important aspects of any home. However, there's a tendency for rooms to get cluttered with freestanding lamps or on-wall lighting fixtures, especially in larger spaces. But as fashions change and technology develops, there becomes less need for the kind of wall acne that disrupts the flow of your meticulously crafted interior design. Recessed lighting not only frees up your walls and ceilings from clutter, but when combined with a smart lighting control system, it can actually create a brighter, subtler scheme that helps you see without drenching your rooms will illumination. A Symbiant system makes it simple to raise and lower lights at will, plus it gives you the option of quickly programming scenes – repeatable lighting designs – for any occasion.
Distributed Audio Keeps You Smiling
Bigger spaces require more work, not just in terms of maintenance, but in terms of functioning as a home. A simple way to add a sense of welcoming warmth to your home is to play the right kind of music. Whole home audio systems can be integrated into your spaces, with either recessed or in-wall speakers, to lend a homey quality that you can't see, but you'll certainly hear. In addition, you can tie your audio system in with your smart lighting and automated entry system to begin playing as soon as you walk through the door.
Are you ready to upgrade your Greenwich Village residence with a smart home system? Contact us today!